Meet the orange runs.....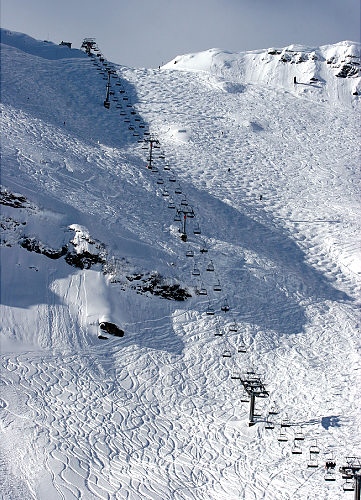 These runs have been rated as too difficult to fit in the standard classification.
La Chavanette
Le Pas de Chavanette, also known as the "Mur Suisse" or "Swiss Wall", is a particularly steep and difficult piste in the Portes du Soleil ski area, on the border between France and Switzerland.
The sign at the start of the run says "For Experts Only". It has a length of 1 kilometre with a vertical drop of 331 metres and consists of moguls throughout.
 It starts in a narrow pass on the mountain top with an inclication of 55 degrees. In winters with heavy snowfall, the moguls at the top can grow to enormous dimensions (up to the size of a small car!) because of the heavy turns people take to compensate for the inclination and narrow slope.
See what it's like to ski the wall
For more scary ski runs including Corbet's Couloir, Delirium Dive, Grand Couloir, Tortin, Harakiri and many more, click here.
For great deals on ski holidays call our ski team today on 0844 875 4010.